Educators from Ariel Community Academy, in Chicago, have provided lesson plans and Web resources to help you get started.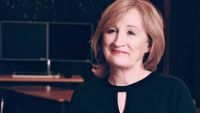 Photo credit: Zachary FinkJudith Shelton, curriculum director at Ariel Community Academy, explains that a point of success for their K-8 financial-literacy curriculum is when students understand how school is directly connected to achieving their life goals.
Tips for downloading: PDF files can be viewed on a wide variety of platforms — both as a browser plug-in or a stand-alone application — with Adobe's free Acrobat Reader program. Click here to download the latest version of Adobe Reader.
Documents to Help You Get Started — Lesson Plans
Below is a sample lesson about goods and services provided by Ariel Community Academy. Connie Moran, the investments teacher for grades 6-8, explained how the lesson works: "These lessons are not by grade level, but progress in difficulty. We felt that following Bloom's Taxonomy would allow the curriculum to be adaptable to the students' needs, not necessarily their grade. For example, if a classroom has never been exposed to a concept at 6th grade, the teacher would be able to begin at the remembering stage if necessary. However, if the group is more advanced, the teacher could begin at the analyzing or creating stage."
Examples below are individual lessons from the Goods and Services Unit. Although Ariel progresses through the lessons using Bloom's Taxonomy to determine the class's level, the sequence below shows how the lessons could also progress by grade.
For grades K-3, Ariel uses the Financial Fitness for Life curriculum, developed by the Council for Economic Education.
Culture at Ariel Community Academy
Additional Resources on the Web
More Edutopia Resources about Financial Literacy
Content retrieved from: https://edut.to/3eF9vkd